Service and Repair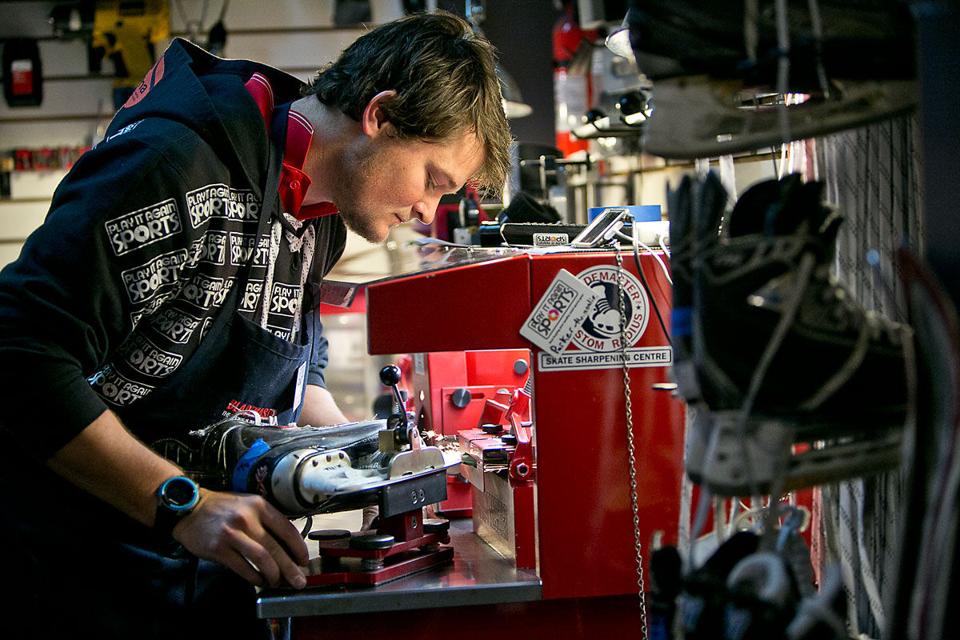 This location has received the EDGEvantage decal. They have been recognized for their consistent performance using our proprietary EDGEvantage skate sharpening program and providing skaters a cutting edge sharpen for improved performance. (photo of Nate Rottier published in the Bozeman Chronicle c.2012)

You get the same sharpen every time! Here's how: Our Skate Techs are taught using the most stringent training system in the country (Edgevantage, PIAS stores across Canada & the US). Each apprentice sharpener does more than 150 pair of skates, sharpened and inspected for perfection, BEFORE they are certified to touch a player's skate. They are closely supervised as they continue to sharpen hundreds more. PIAS-Bozeman sharpens over 4000 skates a year – so our techs get a lot of practice and develop a keen eye.

WE ARE BOZEMAN'S SKATE SHOP... NO ONE SHARPENS MORE SKATES!
Do you want to better understand sharpening? Ask any of the techs or attend one of our seasonal Sharpening Clinics - see calendar on our homepage for dates.
FEATURING! - Blademaster Sharpening Centre, 3-head sharpening system. We are invested in your skates.

Apprentices: Eli Harris.

Journeyman: In Training

Master: M.Kraska - Sharpening skates since 2004

We a Blademaster Service Center offering complete skate service, including: standard sharpens, flat Bottom V Sharpens, custom radius contouring, rivets, eyelets, towers, steel, maintenance and more.
Location Info
1428 N 15th Ave
Bozeman, MT 59715
Look for stores with the Gold Standard Seal. They have been recognized for achieving the highest standards in Product, Quality, Operations and Customer Service.
This store accepts gift cards
Store Hours
| | |
| --- | --- |
| Mon: | 09:00 AM - 08:00 PM |
| Tues: | 09:00 AM - 08:00 PM |
| Wed: | 09:00 AM - 08:00 PM |
| Thu: | 09:00 AM - 08:00 PM |
| Fri: | 09:00 AM - 08:00 PM |
| Sat: | 09:00 AM - 07:00 PM |
| Sun: | 10:00 AM - 05:00 PM |