Service and Repair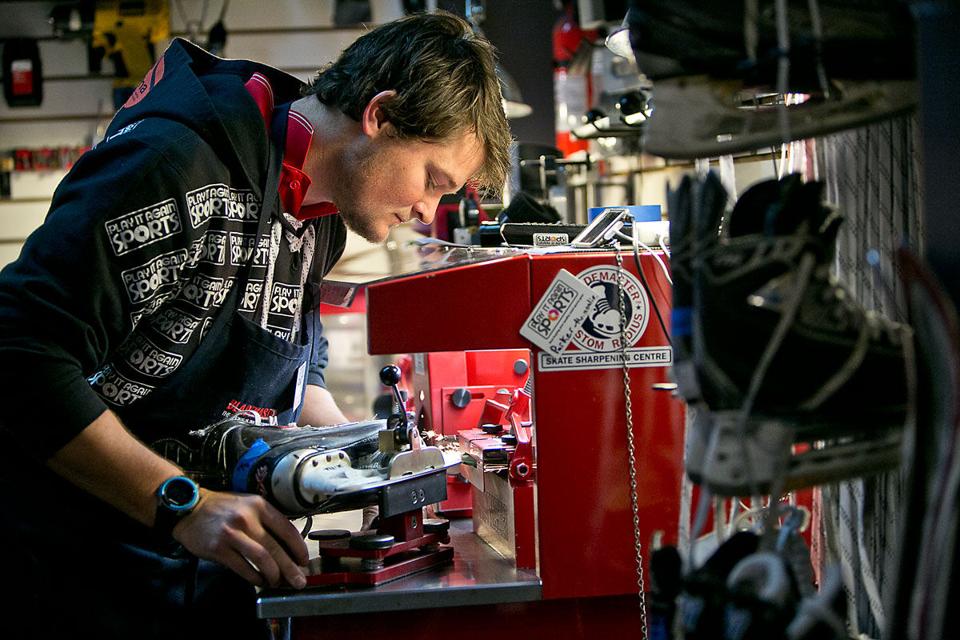 This location has received the EDGEvantage decal. They have been recognized for their consistent performance using our proprietary EDGEvantage skate sharpening program and providing skaters a cutting edge sharpen for improved performance.
WE ARE BOZEMAN'S SKATE SHOP, NO ONE SHARPENS MORE SKATES!
NEW! - Blademaster, 3-head sharpening system. We are invested in your skates.
Visit Nate, Mike and Parker, our Edgevnatage Certified Master Sharpeners, offering complete skate service, including:
Standard sharpens

Flat Bottom V Sharpens

Custom Radius contouring

Rivets, Eyelets, towers, steel, maintenance and more
OTHER SERVICES
Downhill Skis - Mount, Remount, Full Tunes, Sharpen and Wax.
Snowboards - Binding Adjustments and Mount, Full Tunes, Sharpen and Wax.
Nordic Skis - Mount, Remount, Glide Wax and more
Fitness - We Service ALL Brands of Treadmills, Ellipticals, Stationary Bikes. We are the Warranty Service Center
for Schwinn, Nautilus, Horizon, and more. Call for a FREE quote.
Lacrosse - Head Stringing available when you buy the mesh from PIAS, Bozeman
Location Info
1428 N 15th Ave
Bozeman, MT 59715
Look for stores with the Gold Standard Seal. They have been recognized for achieving the highest standards in Product, Quality, Operations and Customer Service.
This store accepts gift cards
Store Hours
| | |
| --- | --- |
| Mon: | 09:00 AM - 08:00 PM |
| Tues: | 09:00 AM - 08:00 PM |
| Wed: | 09:00 AM - 08:00 PM |
| Thu: | 09:00 AM - 08:00 PM |
| Fri: | 09:00 AM - 08:00 PM |
| Sat: | 09:00 AM - 07:00 PM |
| Sun: | 10:00 AM - 05:00 PM |